Considering that confession #1 does a lot by way of introduction, we jump right in!
++ I haven't blogged in over a week because I've been drowning in books and words, in a good way. I've been reading like a bandit and writing like a madwoman, and I ain't mad at it (the reading and writing part, the not blogging part sucks balls).
++ Also, I've discovered that fandom iG accounts are pretty much a vortex/drug of which I cannot resist. Especially if it's The Mortal Instruments or The Infernal Devices related (#Heronstairs, #Team Jace/Will/Jem <3). If it were socially acceptable, I'd dedicate my life to the many fandoms, instead of, I don't know, adult shit.
++ It follows that sometimes I seriously prefer fictional people to real people. I don't know what to make of this.
++ Have I mentioned that I predicted the Sons of Anarchy series finale back at the end of Season 6? It still hurt my heart </3. I was a complete wreck during those last few minutes.
++ I've listened to both of these songs at least 100 times this past week. For real. ONE HUNDRED. Anything with John Newman or Adam Levine's voice on it gets my panties in bunch. Should I not have said that? :\
++ Which reminds me, "inappropriate" is basically my middle name these days. It's like my filter's broken.
++ I'm looking forward to the Fifty Shades of Grey movie so I can hate watch it. Bwwaaahhhh!
++ Dubstep gets me moving like this. I can't control myself, which is great when working out but not so great when, you know, doing normal things like walking down the street.
++ The fact that one of my bestfriends (like a sister since we basically grew up together) just had a baby and another just got married kinda makes me feel like I should be doing so much more with my life.
++ I want every single one of the new
Anastasia Beverly Hills liquid matte lipsticks
. All of them.
++ I cheat at the emoji-pop constantly.
As this is my first confessional post in months, I'm linking up with Hump Day Confessions championed by Channing Tatum, because I mean, how could that not be right?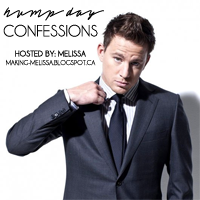 Confessed anything recently?